Video playlists enable content owners to categorize their videos and share video series on their IBM Cloud Video Streaming Manager, IBM Cloud Video Streaming Manager for Enterprise, Ustream Pro Broadcasting and Ustream Align channel pages.
Creating a Playlist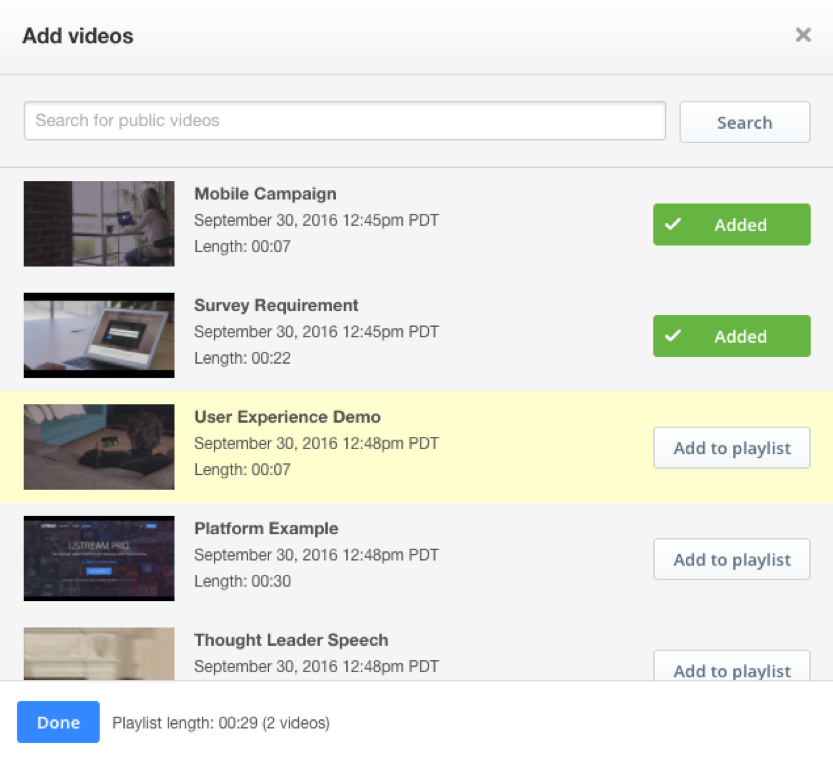 To create a playlist, a content owner simply has to click on an existing channel inside their account and go to the Playlist option. There will be an option to create a new playlist on this page, which requires giving it a name. After naming the list, the content owner next chooses the videos to add to the playlist. Due to the fact that accounts can have hundreds if not thousands of videos, a search option has been added for easier location of assets. The search will locate any asset on the account that matches the word or phrase. For example, a search for "Demo" would pull up a video called 'User Experience Demo'. However, a search for "User Demo" would not pull up the same asset as the two words do not appear in that sequential order. Note that only published videos can be added. Unpublished videos will still appear, but will be unable to be added to a playlist until they are published. Furthermore, if a video is later unpublished a prompt will appear warning that doing so will remove it from all playlists, providing a list of impacted playlists before being unpublished.
Watching and Interacting with Playlists
By default, even after playlists have been created, they are turned off for a channel. A prompt is provided notifying account owners of this, making it easy to turn them on or to continue creating playlists in a "staging-like environment" before turning them on for viewers. Once enabled, though, a new tab is added to a channel page called "Playlists". This listing allows viewers to browse curated playlists created by account administrators and channel managers. The tab is visible if it is enabled and if it contains at least one playlist that has videos in it. Once a playlist is selected, a new "Playlist" listing appears to the right of the player. The listing states the name of the playlist, number of videos, total duration and cites what videos are inside. This allows viewers to see what's coming up, when it was added and the ability to switch to a video of their choosing in the playlist. When a video in the playlist is done, the next video will immediately start to play.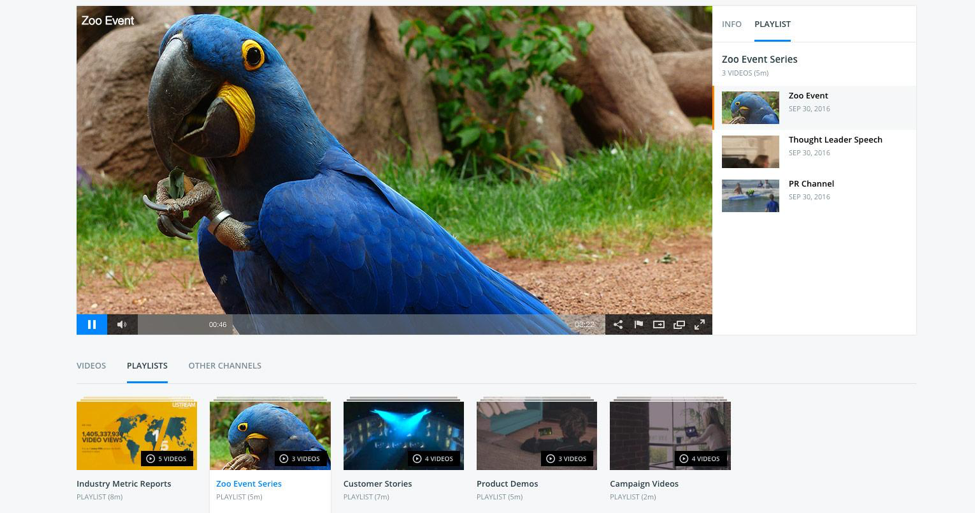 Numerous playlists can be added to a channel. As seen above, each will be listed using the thumbnail of the first video along with a chosen name for the playlist, length and total number of videos located inside.