In the Account Settings tab, you can see and change the general information regarding your Ustream Align account. This is different from the Channel Settings tab in that the Account Settings tab deals with your subscription type, billing information, and account password as opposed to details about your Ustream channel.
Your Subscription
Settings
The Account Settings tab automatically opens on your settings page.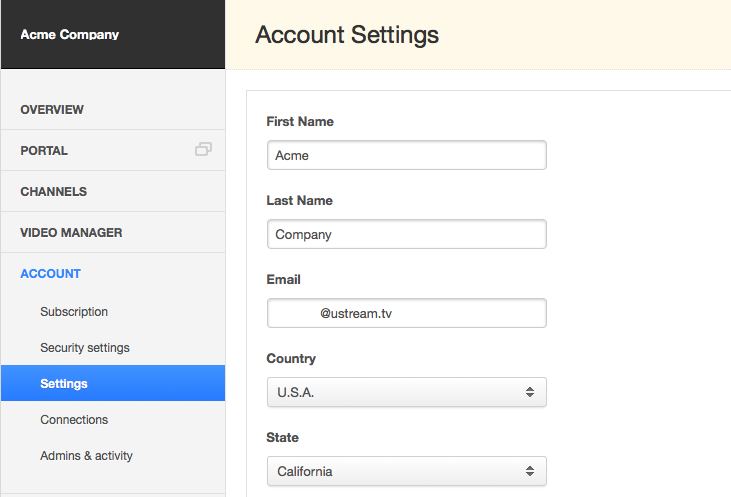 On this page you can:
See and change the first and last name set for your account
See and change the email address associated with the account
See and change the country, state, city, and zip code associated with the account
See and change the timezone associated with the account
Change the password associated with the account (you need to know the current password to do this)
Delete the account
If you make any changes on this page, be sure to click 'Save' when you are finished.
Subscription
The top page in the Account section of your Ustream Align account is the Subscription tab: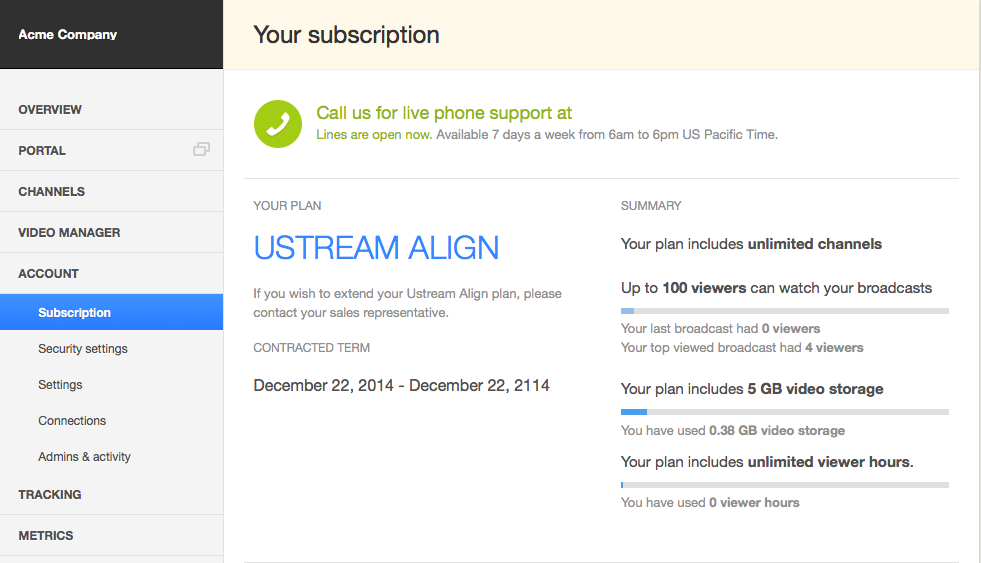 On this page you can see:
The number for Customer Support
Your plan type
The number of channels you can create
The number of viewers that can watch a broadcast on your channel
Your storage and viewer hour limits
Your past invoices and payment history
Security Settings
The Security Settings page allows you to change the overall authentication type for your Align account. You can choose between enabling 2-step email authentication or Single Sign On (SSO) security for your Portal page and channel pages. For more information on setting up your security, please read this article.
Connections
The connections page allows you to choose what 3rd party services you want associated with your Ustream Align account. For example, if you wanted to be able to push your recorded videos to Ustream, you could click 'Connect' for the Youtube icon.
Admins and Activity
The Admins & Activity page allows you to assign other Ustream account holders to have control over a particular channel on your account. This can be useful when you want a person to be able to publish and unpublish videos, or start a live broadcast, without having full access to the settings of your entire account. More information on setting account admins can be found here.